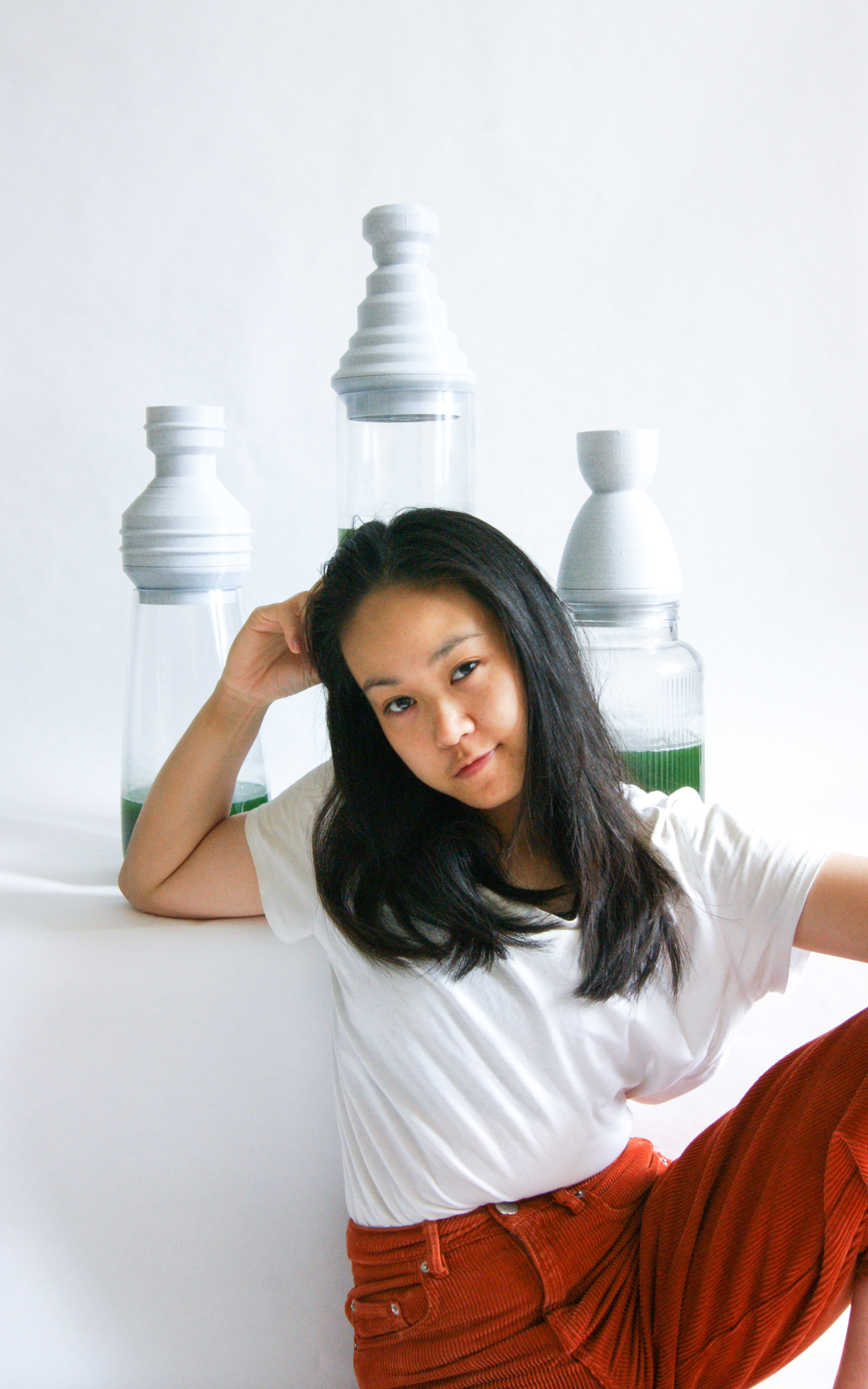 Multidisciplinary Designer | Design Researcher
Design as a cataly

st f

or change
I have a multidisciplinary approach to design, uniting the fields of architecture, music, and product. ​For me, design is present in every creative practice, in different mediums and scales—from the spaces that we dwell in to the tactile entities that we utilise in a daily routine. My project outcomes have included object, experimentation, system, film, fiction, and tool.
Recently, I have been focusing on designing for circularity with the endeavour to make sustainability appealing. My interests lie in the field of algaculture, future food, biomaterials, accessible design, distributed systems, public participation, and renewable energy.
I aspire to design for radical change; to create a positive social and environmental impact, as I stand for equity and strongly believe in societal and ecological justice. I am passionate about utilising my design to raise public discussion on social norms, status quo, and (un)desirable futures; either implicitly or explicitly.
Since I imagine 'design' as a tool for change; politically, economically, and environmentally—I hope my work could empower people to challenge current modes of production and consumption—​as perception and behavioural shifts are desperately needed in times of crisis.
Awards | Exhibitions | Experience
+ London Design Festival 2020 (Exhibition) -

(Un)finished.


The exhibition featured selected work by RCA Design Products graduates (2020) as part of Brompton Design District.
+ Distributed Design Awards 2020 (Finalist) -

Spirulina Society


In partnership with The Index Project, these awards recognised the most innovative, supportive and sustainably designed projects across Europe.
+ London Design Festival 2019 (Exhibition) -
Machines Room Residency (August - September 2019)
The research looked at how biomaterial works in a makerspace context in which it proposes small-scale fabrication techniques where the processes omit toxic, unsustainable materials and adhesives. Creating products with new materials and techniques challenges conventional production models and their technological infrastructure.
+ The Distributed Design Sprint -
Other Today (July 2019)
A five-day workshop, investigating on how to push the boundaries of a product that can be manufactured anywhere in the world, using accessible digital manufacturing techniques.
+ Milan Design Week 2019 (Exhibition) -
BioScreen (April 2019)
A 100% biodegradable product that is both good for people and planet for the future of sustainable living.
+ The Grand Challenge Project -
RCA x CERN (Winner) (December 2018 - January 2019)
Working in 74 interdisciplinary teams, 374 students from across the School of Design, were given four weeks to devise workable solutions to global problems. The four winning teams presented their work at CERN in February 2019.
+ Bangkok Design Week 2018 (Exhibition) -
Public Fabrics x Folkcharm (January 2018)
A purpose-driven platform republishing local crafts(wo)manship with design & storytelling to empower the makers and connect their potential with the contemporary audience.
+ SACICT Innovative Craft Award 2018 (Finalist) -
Public Fabrics (May 2018)
Teaming up with a textile designer (RCA alumna), we were finalists for Innovative Craft Award 2018 (the Support Arts and Crafts International Centre of Thailand) for a furniture collection.
+ Youth Co:Lab Workshop -
UNDP (November 2017)
A five-day workshop, accel­erating the implementation of the Sustainable Development Goals (SDGs) through leadership, social innovation and entre­preneurship; finding and developing new solutions for social and environmental problems in the communities.
Royal College of Art - London, UK
The Florence Institute of Design International - Florence, Italy
Furniture Design (Short Course)
Faculty of Architecture, Chulalongkorn University - Bangkok, Thailand
BS in Landscape Architecture
Chulalongkorn University Demonstration School - Bangkok, Thailand
Asia Ava Gas Company Limited
- Singapore
Graphic Designer / Administrator (Part-Time)
January 2015 - September 2017
X0809 - Bangkok, Thailand
Composer, Songwriter, Musician, Singer, Art Director and Record Producer
Very Kind Invention - Bangkok, Thailand
October 2013 - January 2014
Playhound by Greyhound - Bangkok, Thailand
Assistant Graphic Designer
August 2013 - October 2013
Stu/D/O Architects - Bangkok, Thailand
Architect & Landscape Architect
Sanitas Studio - Bangkok, Thailand
November 2011 - December 2011
T.R.O.P. Terrains + Open Space - Bangkok, Thailand
anya.muangkote@network.rca.ac.uk